Turkey Meat Loaf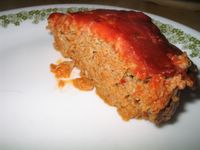 Mom's meat loaf...
I always knew there was a secret to some recipes. Like the tasty stews and meat loaf meals that my mother made (and still makes). I always tried so hard to make them come out just the way she did, but never managed it. Finally I asked her what her secret was, and what was I doing wrong?
It turns out there are these "flavor packets" (powder mixes) for stews, meat loaf, and other such meal items (like the bake-in-a-bag roasted meals, those need a nice secret mix too).
Surprise! She thought I knew. Nope. And yep, she had a good laugh about it too.
Ok... now I know. And won't ever make another meat loaf (or stew) without a mix! Ah, but not the whole mix. If you use the whole mix, it usually comes out too salty (for us anyway). So you have to adjust for taste. If you like it really salty, use the whole mix, if you don't, use about half.
This is her basic meat loaf recipe, only, a healthier version, made with ground turkey instead of ground beef. Little by little I've managed to decrease the red meat we were having too often with "other white meat" meals. Like this one. (turkey tacos anyone? they're pretty good too...but thats another recipe and not-so-secret mix)
1/2 to 3/4 ground turkey
1 egg, beaten
2-3 TBS milk (or half & half)
1-2 pieces of sliced bread, (dampen it with water, squeeze excess)
dash onion powder
dash (dried) sweet basil
dash (dried) oregano
dash (dried) paprika
pepper to taste
1/2 packet "meat loaf mix" (seasoning packet, pick your favorite brand, there are a few)
1 8oz. can tomato sauce
Mix everything together except the tomato sauce. Make sure the bread is mixed in well. Place the mixture in a loaf pan (we usually put it in a foil lined loaf pan, for easier cleanup). Pour the tomato sauce on top and add a little more pepper and onion powder.
Bake at 350°F (in the center rack of your oven) for 1 and a half hours.
Tasty!
We accompanied this particular meal with onion potatoes and brussel sprouts.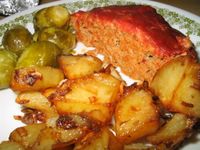 For the
potatoes
, mix a little oil (just enough to coat the potatoes) and some onion soup mix (there's another mix!) in a baking/roasting pan, add some potatoes (cut however you like them, we usually do a large dice) and mix well. Make sure the potatoes are all coated with the oil and soup mix. Add a little water and bake for an hour or so (same temp). I found the onion potato recipe on the onion soup mix box, and have made it before. I just don't usually mix this in a plastic bag as they recommend. Too messy (and you can't get all the mix out of the bag afterwards, so it's kind of a waste).
A night or two later, the leftover meat loaf became (with the help of a seasoned tomato sauce) a very satisfying meat sauce for spagetti.
Quick Tomato sauce
2 8oz. cans tomato sauce
add a dash of: oregano, pepper, crushed rosemary, onion powder, salt
leftover meat loaf, crumbled
In a sauce pan on low heat, bring the sauce and seasonings to a slow simmer and cook for about 20-25 minutes. Use it on your favorite pasta. Mmm!