Fudge Oatmeal Peanut butter 'cookies'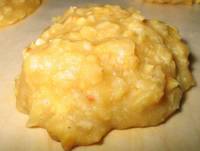 These are excellent...! Quick & easy. They come out perfectly so long as you let the mixture boil long enough (has to be a light brown in color and a little thick). These are little peanut buttery oatmeal yummies.
You will need to start:
1 cup granulated (white) sugar
1 cup (light or dark) brown sugar
1/2 cup margarine (8 TBS or 1 stick)
1/2 cup milk (half & half, rice milk, or soy milk also work)
Cook the above ingredients in a medium saucepan (non-stick works best for me) on low to medium heat until thick, about 10-15 minutes after it starts boiling. Stir occasionally.
Take off the heat and add:
2 (rounded) Tablespoons peanut butter
1 1/2 cups uncooked quick oats (canister kind, not instant, unflavored)
1 tsp vanilla

Mix well (and quickly), drop by teaspoonfuls onto waxed or parchment paper.
This step must be done quickly as this mixture will set fast.
Let cool fully before storing.
Any kind of nut butter will work with this recipe. Stored in an air tight container, these will last about 4 days.
The batch in the picture were made with 100% natural chunky peanut butter and coffee creamer because I didn't have any milk. Works just fine. Versatile recipe. You can view another picture here.
Labels: cookies, easy, fudge, oatmeal peanut butter, peanut butter