Tofu - pudding/pie filling?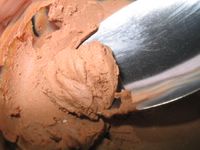 I saw a recipe in a magazine for tofu pudding. Sounded simple and easy, and of course, tasty. Also saw something similar on a Good Eats
episode
. Both recipes were meant to be used as a pie filling.
Since the magazine recipe had only 3 ingredients (1 pkg. firm tofu, drained, 12 oz. melted chocolate chips, 1 tsp. vanilla, blend on high until smooth in a blender), I figured it wouldn't take too long (and it didn't).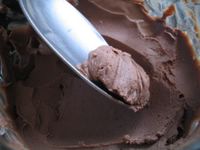 I wonder if the resulting texture was correct though. It was more, fudge-like than pudding like. It would've made a great pudding dessert if served right away because it had a fluid texture and was smooth (though slightly bland with a darker chocolatey color). But once refrigerated, the fluid-like texture becomes very firm and thick (and the color lightened). So I'm not sure how this would be in a pie. With cream (or whipped topping) folded in it might make a nice cake filling.
Still..... healthy chocolate? Mmmmm. I think next time I'll add honey (as in the Good Eats recipe) and maybe some Kahlua for added flavor.
If you try this, make sure you drain the tofu well; place wrapped in paper towels with a weight/heavy can on top so the water can drain. Let it drain for about an hour.
Both recipes recommended using a blender but I think I'll try this in a food processor to see if it comes together quicker. Plan to also try using silken tofu to see if that changes the texture after refrigerating.
Overall, this was good. Dense and heavy, but pretty good.