Chicken-bean-orzo thing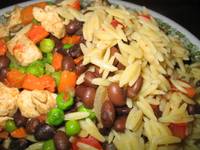 Sometimes I have ideas for meals. They come together nicely in my mind but they rarely look or end up the way I envisioned. Still, sometimes, it works out. I wanted to try orzo (rice sized pasta) and this seemed like a good way to do it. This is a winging-it kinda meal. The black beans were an afterthought. Everything is diced so it cooks quickly.
This is what I used:
4 cloves garlic, some diced, some sliced
1/2 onion, diced
2 plum tomatoes, seeded, diced
1 chicken breast, diced and sprinkled with black pepper
1 cup diced carrots (I used fresh baby carrots and some frozen)
1 cup frozen peas (or a can would work, added at the end)
3/4 cup orzo
chicken bouillon cube
1 can black beans, drained (and rinsed)
oil for stir fry
Cook the orzo in water with the bullion cube for 7-9 minutes (or per package instructions) and when "al dente," take off the heat and drain. In the colander, add half of the diced tomatoes and toss a bit. Add some of the black beans and toss a bit more.
Heat up a wok or large frying pan, and when hot, add a little oil and the onions. Saute for two minutes. Add the chicken and cook, stirring occasionally, for 5-8 minutes. I used fresh carrots as well as frozen so I added the fresh carrots and the garlic at this point. Add the garlic and the rest of the tomatoes, mix well, and cook until the carrots are soft. Add the frozen peas and carrots. Cook for about 10 more minutes stirring occasionally. Add the black beans. Mix well.
That's it.
I resisted the urge to add the orzo and have everything together, but that probably would've worked out well too. All in all, this was pretty tasty (and made enough for 2, plus leftovers). There's another picture
here
.