Keftethes (Greek meatballs)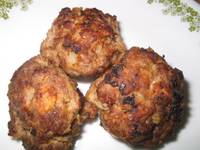 An old favorite. I learned this from watching both my mother and grandmother make them (not sure of the spelling, but it's pronounced: kif-TEH-this). Both, of course, do it a little differently. And there are many ways to make these and many variations.
For example, you can use lamb, ground pork, ground turkey/chicken, ground beef, or any combination (though I wouldn't recommend mixing red meat with white). When I was abroad, I made this with a mix of ground beef and ground pork (sold together, interesting concept) and it came out just fine. The two kinds of meat worked well and changed the flavor. Still good, just, different.
My grandmother sometimes adds diced tomatoes (adds moisture) or orange or lemon zest (adds a surprise "kick") for variety. I've added shredded carrots (my attempt to make this a little healthier, heh) or used scallions instead of onions. Using bread crumbs instead of the bread changes the texture. All good variations.
This is the basic recipe:
ground beef (1-2lbs)
2 small or 1 lg. onion, diced (or grated)
1 TBS. oregano
Pepper (couple of good grinds, or a few dashes pre-ground)
1 Tsp. cumin (ground, and optional)
Pinch of salt
3-4 slices bread (I use white, any unseeded variety works well)
Flour, enough to coat each meatball
Oil for frying
Add some flour to small plate or bowl and set aside. Have 2 clean plates ready; one to hold the formed patties/meatballs, one to hold the flour coated ones.
In a bowl add the first five ingredients. Wet the bread under cool tap water, and squeeze out the excess (squeezing it into a tight ball works). Tear the wet bread into pieces and add this to the bowl. Using your hands, or a hand/stand mixer, blend everything together.
Form small-ish palm-sized flattend balls/patties and put them on one of your plates. If your hands get too sticky, you can rub a little oil on your palms, this helps. Try to make them all the same size. Basically, you want a flat meatball about the size of a golf ball. The bigger they are, the longer they will take to cook.
When all your meatballs are formed, dip each one in the flour and coat completely. Shake off any excess and put it on the clean plate.
Heat a frying pan on low to medium heat. When it's hot, add some oil. You want there to be at least 1/4 inch of oil or so (maybe a little less). Line your pan with some of the meatballs (leave a little room in-between each one), cover and cook. The cook times vary, so check these often and cook until the bottom of each meatball is dark brown (but not burned). Turn each one over and cook the other side the same way.
I usually cut one in half to make sure it's cooked through. I'm paranoid that way :)
Drain these on a wire rack (over a tray)
-or-
in a metal bowl/foil bowl/on a cookie sheet lined with foil and topped with paper towels.
Keep them warm in the oven or toaster oven (without the paper towels) on low while you cook the rest.
Mmmmm!
Serve with rice, or fries (or mashed potatoes), add a veggie and you have great a meal.
There's a little work involved, but not too much, and it's pretty simple.
These reheat easily (warm oven or toaster oven) and are great (cut 2-4 in half and place on bread) in a sandwich with mayo or ketchup.
There's another picture
here
.